Latest Blog Posts
Distributionen wie Raspbian lassen die passgenaue Zusammenstellung eines Betriebssystems kinderleicht aussehen. Image herunterladen, Pakete installieren, noch ein paar Änderungen - fertig. Alles wie auf dem Laptop oder Server. Warum ein Betriebssystem aus einer klassischen Distribution im Produkt-Kontext zur Katastrophe führen kann, beleuchtet der Vortrag "Raspbian vs. Build-Systeme: Das richtige Werkzeug für solide Produkte".
---

"Mach es einfach anders!" - unter diesem Motto finden die CLT dieses Jahr im virtuellen Raum statt. Wie auch in den letzten Jahren ist Pengutronix als Sponsor dabei. Anders ist, dass wir dieses Jahr unser eigenes kleines Programm mit spannenden Kurzvorträgen und täglich zwei Quiz-Runden mit tollen Hauptgewinnen mitbringen.
---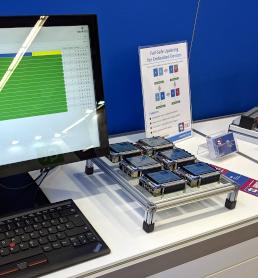 Being able to robustly and securely update embedded systems and IoT devices in the field is a key requirement of every product today. The update framework RAUC is the basis for a modern and future-proof solution. In this showcase we present the basic principles of a fail-safe update system and how Pengutronix can support you with implement this for your platform.
---
more...
Our Topics