RAUC v0.3 Released
The RAUC team is proud to announce that we've just released RAUC v0.3! Again, we have worked a lot on stability and support for more and more use cases. RAUC now supports pure UEFI-based booting on x86, multiple board variants in the same bundle, intermediate certificates and enhanced feedback from the boot selection layer.
Enhancements
Added support for intermediate certificates, improved bundle resigning and certificate information for hooks. This makes it easier to use a multi-level PKI with separate intermediate certificates for development and releases.
Added support for image variants, which allow creating a single bundle which supports multiple hardware variants by selecting the matching image from a set contained in the bundle.
Added support for redundant booting by using EFI boot entries directly.
Added boot information to rauc status
Added rauc extract command to extract bundles
Support detection of the booted slot by using the UUID= and PARTUUID= kernel options.
Improved the status and error output
Improved internal error cause propagation
Bug Fixes
Fixed boot slot detection for

root=<symlink>

boot parameters (such as

root=/dev/disk/by-path/pci-0000:00:17.0-ata-1-part1

)
Removed redundant image checksum verification during installation.
Testing
Improve robustness and test coverage
Use gcc-7 for testing
Documentation
Added documentation for intermediate certificates, re-signing bundles, image variants and UEFI support
---
Weiterführende Links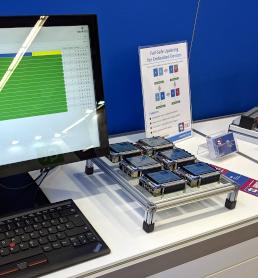 Eingebettete Systeme und IoT-Geräte robust und sicher im Feld updaten zu können ist heute eine Kernanforderung jedes Produkts. Das Update-Framework RAUC ist die Basis für eine moderne und zukunftsfähige Lösung. In diesem Showcase zeigen wir die Grundprinzipien eines ausfallsicheren Update-Systems und wie Sie dieses mit Unterstützung von Pengutronix für Ihre Plattform realisieren können.
---
This release fixes a vulnerability in RAUC that can be exploited under certain circumstances to achieve a local privilege escalation. It provides both a mitigation for the vulnerability when using the existing bundle format as well as a new bundle format that uses dm-verity to continuously authenticate the update data while it is installed.
---
It's been 3 weeks ago now since the tag for RAUC 1.4 was created. But it is vacation time and so we have a good excuse for communicating things with some delay. Fortunately, the media team is back now and so also those of you who haven't noticed the new release yet will be informed about notable changes.
---